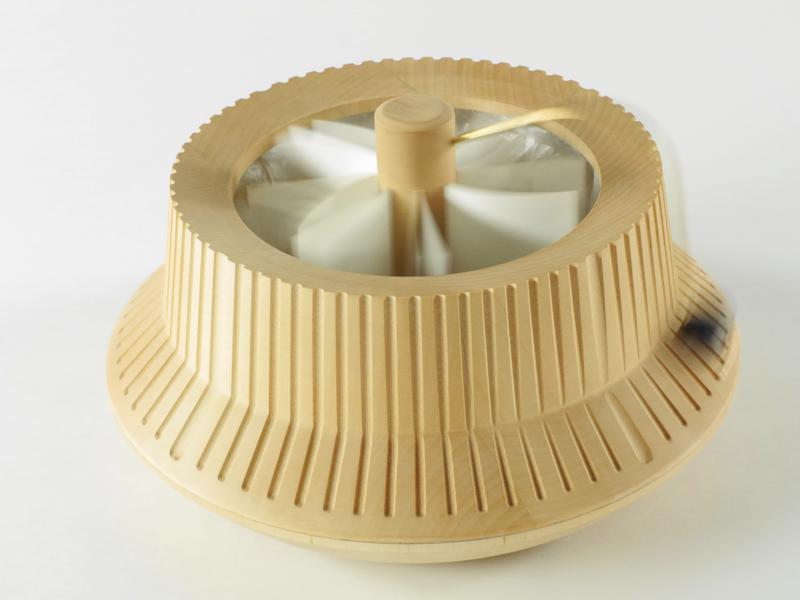 Track of time
We know about the value of good sleep.
The main cause for sleep disorders is a bad sleep hygiene. Affected people in most cases don't stick to the rules that are considered to be an essential requirement for restful sleep.
Due to our accelerated environment, the human organism becomes detached from its natural rhythms- it orientates itself towards artificial intervals instead and keeps working, even when the sun goes down.
The organism is adjusting to machines, which tend to show signs of tiredness a lot less than we do. Our time gets divided less into days and weeks, but more into labor time and free time, battery runtime, trade fair cycles, quarterly numbers, traffic light cycles, and shop opening hours. Track of time is supposed to serve as a tranquilizer, that creates hypnotic rhythms in an analogue, accessible manner. The object initiates the process of falling asleep, and sharpens our senses of how we deal with sleep.
Being placed on your desk, the object must be activated for a session of late evening work at the home office. After a set period of time, the object will start to remind you to end your day by using hypnotic sounds to initiate your sleep.
Track of time
Wir wissen um den Wert guten Schlafs.
Die Hauptursache für Schlafstörungen ist schlechte Schlafhygiene. Betroffene halten sich häufig nicht an die Regeln, die als wesentliche Voraussetzung für erholsamen Schlaf angesehen werden.
In unserer beschleunigten Umgebung entkoppelt sich der menschliche Organismus von seinen natürlichen Rhythmen- er orientiert sich stattdessen an künstlichen Intervallen und arbeitet weiter, auch wenn die Sonne bereits untergegangen ist.
Der Organismus passt sich Maschinen an, die weit weniger zu Ermüdungserscheinungen neigen als wir es tun. Unsere Zeit wird immer weniger in Tage und Woche eingeteilt, stattdessen vermehrt in Arbeits- und Freizeit, Akkulaufzeit, Messezyklen, Quartalszahlen, Ampelphasen, und Ladenöffnungszeiten. Track of time soll als Beruhigungsmittel dienen, dass hypnotische Rhythmen auf eine analoge, zugängliche Weise erzeugt. Das Objekt initiiert den Prozess des Einschlafens und schärft unsere Sinne dafür, wie wir mit Schlaf umgehen.
Auf dem Schreibtisch platziert muss das Objekt für eine spätabendliche Sitzung im home office aktiviert werden. Nach Ablauf einer festgelegten Zeit beginnt das Objekt den Nutzer an das Tagesende zu erinnern, indem es hypnotische Klänge verwendet um seinen Schlaf einzuleiten.