About MAIER-AICHEN & Karlsruhe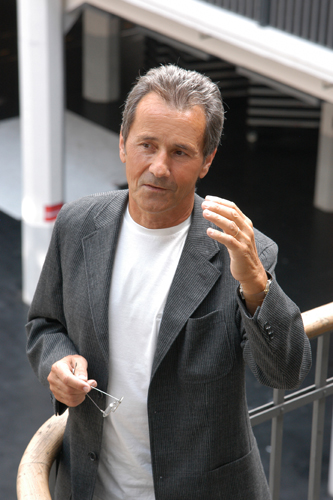 Ein Paradigma im Wandel
Vor dem Hintergrund zunehmender Überproduktionen, einem erhöhten Ressourcen- und Umweltbewusstsein, wachsender ökologischer Herausforderungen, einer von renommierten Wirtschaftswissenschaftlern angezweifelten höchst umstrittenen Wachstumseuphorie, im besonderen in der Beobachtung einer Produktkultur mit hoher Austauschbarkeit, epigonenhaften Adaptionen und dem getrübten Charme des Mittelmaßes, sprechen wir von einem radikalen Paradigmenwechsel, der auch in Ausbildung und Lehre Spuren hinterlässt.
Freie Projekte, multidisziplinäre Kommunikation, die Erweiterung klassischer Lehrmuster durch mehr Dialogbereitschaft zwischen Designschulen, wissenschaftlichen und technischen Universitäten sind u.a. die neuen Parameter für eine zukunftsweisende Ausbildung. Deren Auswirkungen auf eine auf mehr Eigenständigkeit ausgerichteten Produktionsattitude mit dem Flair des Authentischen sind bereits ablesbar.
Dabei erweitert die Wissensbildung in der Vernetzung von Design, Kunst, Architektur und den sozio-ökologischen Anforderungen das Potenzial für ein auf die zukünftigen Fragen ausgerichtetes Agieren.
In einer Wohlstandsgesellschaft mit Verantwortung und einer sozialisierten Ethik gegenüber dem Nutzlosen, Unnötigen und gesellschaftlich Verwerflichen, geht es bei dieser Gemengelage um ein beachtliches Maß an verändertem Bewusstsein für einen sensibilisierten Markt und seine Nutzer. Auf der Suche nach den kreativen, formalen und funktionalen Innovationen, modernen Technologietransfers, sind gesellschaftliche, ökonomische und ökologische Relevanz, ein intensiver internationaler Austausch zwischen den vielfältigen Kulturen und eine offene Kommunikation mit der Industrie auf Augenhöhe von zentraler Bedeutung, somit auch Orientierung für eine revidierte Ausrichtung der Lehre.
"Less but Better", also die Reduktion der eingesetzten Mittel mit verbesserten Lösungsansätzen, Entschleunigung statt Beschleunigung als qualitatives Regulativ, werden zu zentralen Diskussionsfeldern und interagieren als praktischer wie intellektueller Input an der Schnittstelle von klassischen Produktionszyklen und nachhaltiger Transformation.
Die Bedeutung eines "work in progress", also nicht nur a priori linear, ziel- und ergebnisorientiert zu denken und zu planen, sondern diese innere Wahrnehmung in den Focus von Entwicklungsprozessen zu stellen, die Wegstrecke als Motor und Korrektiv unseres Tuns zu begreifen, wächst.
"It is not the road you walk it is the walking", eine Metapher, die unter anderem auf die Qualität und Dynamik eines prozessualen Vorganges beim (Er)finden und Entwickeln von Ideen und Dingen des Alltags hinweist. So schaffen wir möglicherweise veränderte Plattformen, fördern grenzübergreifende Kooperationsmöglichkeiten, Perspektiven mit dem Risiko unabhängigen Denkens aber auch mit deren Chancen.
A Change in Paradigm
Increasing over productions, an elevated awareness for resources and the environment, growing ecological challenges, a euphoria for growth that is highly controversial and constantly doubted by economists – especially under the aspect of the product culture's strong exchangeability – unoriginal adaptions and the dulled charm of mediocrity: we are speaking of a radical shift in paradigm which must leave its marks in education and teaching.
Offering free projects and supporting a multidisciplinary communication yet also expanding classic teaching patterns by creating dialogues between other design schools, scientific and technical universities, are the new parameters for a forward-looking education. Its impact on a more independently targeted production attitude with an authentic flair is becoming apparent already.
Knowledge development can broaden the potential for acting in line with questions to come by interlinking design, art, architecture and socio-ecological requirements. In an affluent society that carries responsibilities and is aware of socialized ethics towards the useless, unnecessary and condemnable, the core of this conglomerate traces a considerably large shift in awareness for a more sensible market and its user. Social, economical and ecological pertinence, an intense international exchange between the many diverse cultures and an open communication on eye-level with the industry are important actions in search of creative, formal and functional innovations and modern technology transfers. This therefore must be an orientation for a revised teaching model.
"Less but better" – reducing the used means with improved solutions and deceleration instead of acceleration to regulate quality. These factors become central fields for discussions that interact as virtual and intellectual input at the gateway between classic production cycles and a sustainable transformation.
The meaning of "work in progress" – not only thinking about and planning towards a priori linear solution that is targeted at the objective or the result, but taking into account the inner perception in a development process and understanding the path as our actions' motor and corrective is becoming more relevant.
"It's not the road you walk, it is the walking that matters." Among other things, this metaphor indicates the quality and dynamic of a process in search and development of ideas and things in everyday life. Through this we might possibly be able to create new platforms and stimulate cross-border cooperation possibilities. We need perspectives that carry the risk of independent thinking but that also offer chances.